SATURDAY, 3 JULY 2021: LOCAL RALLIES FOR LIFE
55 local Rallies for Life have taken place across the country (Saturday, 3 July) urging the public and TDs to #RethinkAbortion in view of the shocking outcomes of the abortion regime so far. 
Because of Covid-19 restrictions, the local rallies took place in lieu of the national pro-life march on the first weekend of July , but organisers say that the events are vitally important given the review of the legislation which will take place this year.
A Dublin rally took place at the GPO in Dublin on Saturday, July 3rd at 2pm, and 54 other local rallies were held from Cork to Coleraine. The Rally for Life is an All-Ireland event.
"Thousands attended these events over the weekend because pro-life activists seek to continue to protect both mother and baby, especially in the light of what has been revealed about abortion in Ireland, including late-term abortions and the disturbing rise in the number of abortions," said Niamh Uí Bhriain of the Rally for Life Committee. "We are urging the public and TDs to #RethinkAbortion."
Figures released last week showed that 6,577 abortions carried out in Ireland in 2020 – meaning that 13,243 abortions were carried out in Ireland in just two years.
"We were promised, voters were promised, that abortion would be "rare" post-repeal, but for the second year in a row, we have seen a huge rise in the number of abortions carried out in contrast to when abortion was illegal in Ireland," said Ms Uí Bhriain.
"This shocking rise in the abortion rate, with twice as many women undergoing abortion here as previously travelled, is indicative of the government's complete lack of interest in reducing the number of abortions taking place," she said. "The reality is that abortion is anything but rare."
The rallies also highlighted the fact that it has now been confirmed that late-term abortions are taking place in Ireland, despite assurances that this would never happen.  Ms Uí Bhriain said that a recent study of abortion providers in Ireland showed that the procedue was so disturbing that one doctor described it as "stabbing the baby in the heart".
Activists also pointed to the recent case in the National Maternity Hospital where a baby was aborted after a misdiagnosis as evidence that steps needed to be taken to ensure parents were not pressured into having an abortion.
"A lot of people, including many who voted Yes, are horrified at these outcomes, and the three year review of the legislation should urge many people to rethink the abortion regime and demand change," the Rally spokeswoman said.
She added that the upcoming review of the abortion law should include an examination of how to reduce abortion rates by offering women real supports and "genuine compassion". "The review should not be a white-wash, but a genuine examination of the shocking outcomes of the abortion legislation and an opportunity to rethink abortion and seek postive, life-saving changes to the law," Ms Uí Bhriain said.
She also said that any attempt to scrap the 3-day waiting period should be strongly resisted, as it would lead to a further immediate rise in abortion numbers.
"We know from a Private Question asked in the Dáil by Carol Nolan TD, that almost 1,000 women changed their mind and did not proceed with having an abortion during the 3-day waiting period after the initial consultation. Only the most hardened extremists would want more abortions to take place – most people want fewer abortions. The 3-day waiting period must stay," she said.
An online Rally for Life will also take place pm Sunday, July 4th at 6pm where speakers will include Dr Anthony Levatino, a former abortionist, and contributors from Malta where abortion remains illegal.
Local Rallies for Life
Letterkenny
Grand Parade, Cork
Castlebar
GPO, Dublin
See lots more photos here on our Facebook album
#rallyforlife  #marchforlife  #whywemarch
---
Press
Radio Kerry
https://www.radiokerry.ie/news…
Leitrim Observer
https://www.leitrimobserver.ie…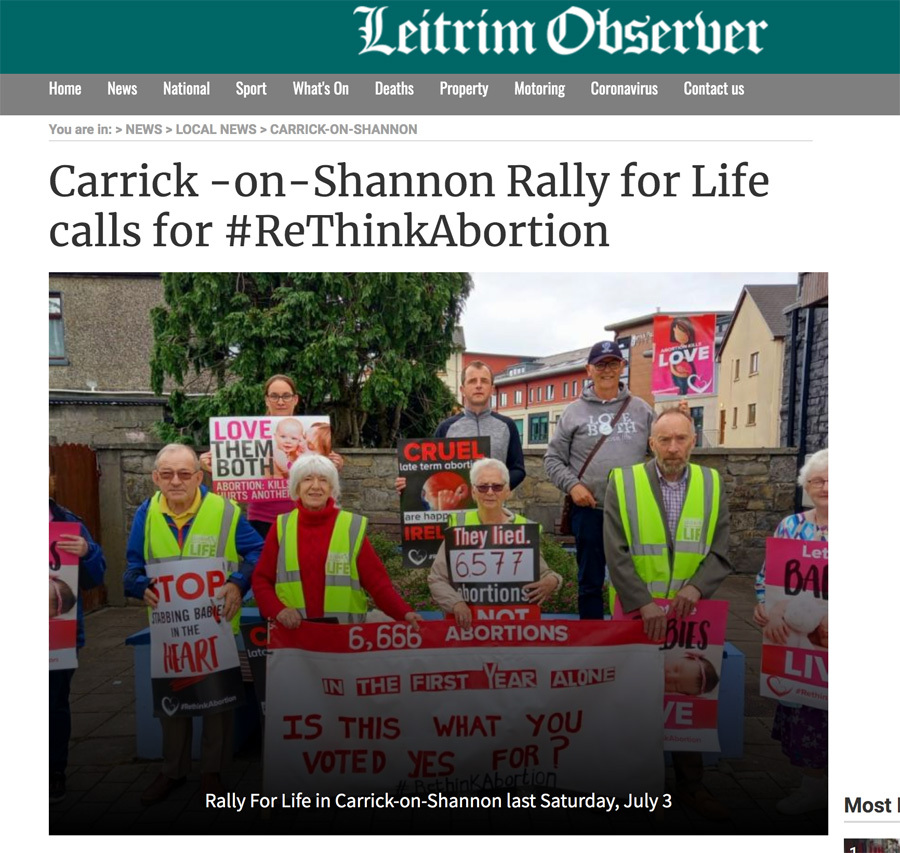 Westmeath Independent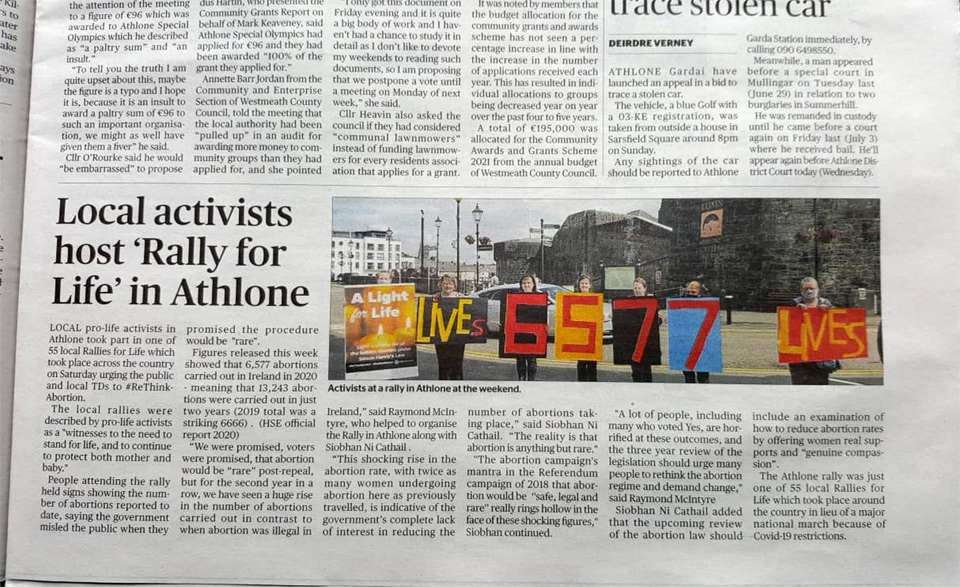 Dungarvan Observer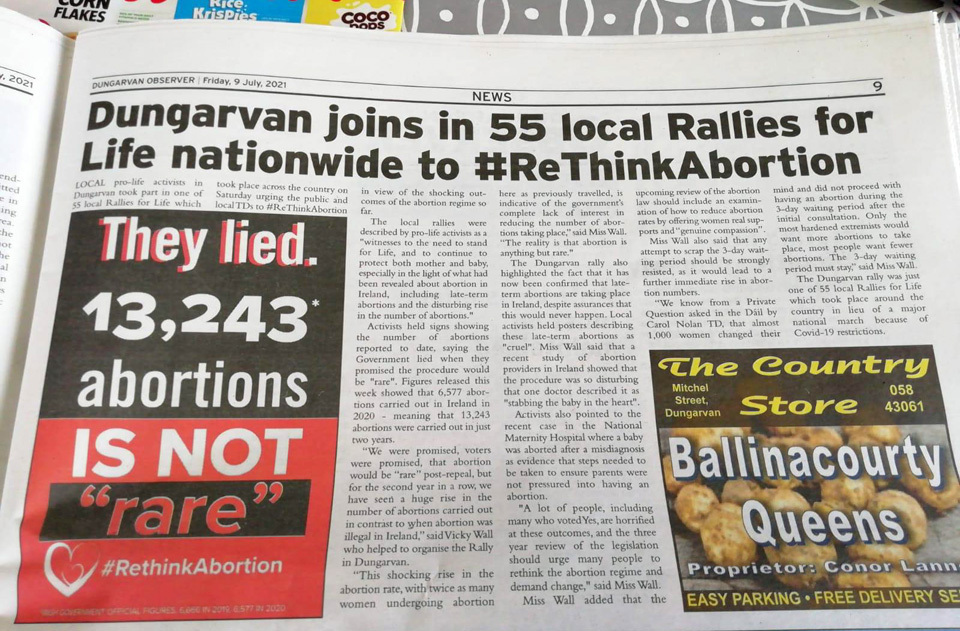 Westmeath Examiner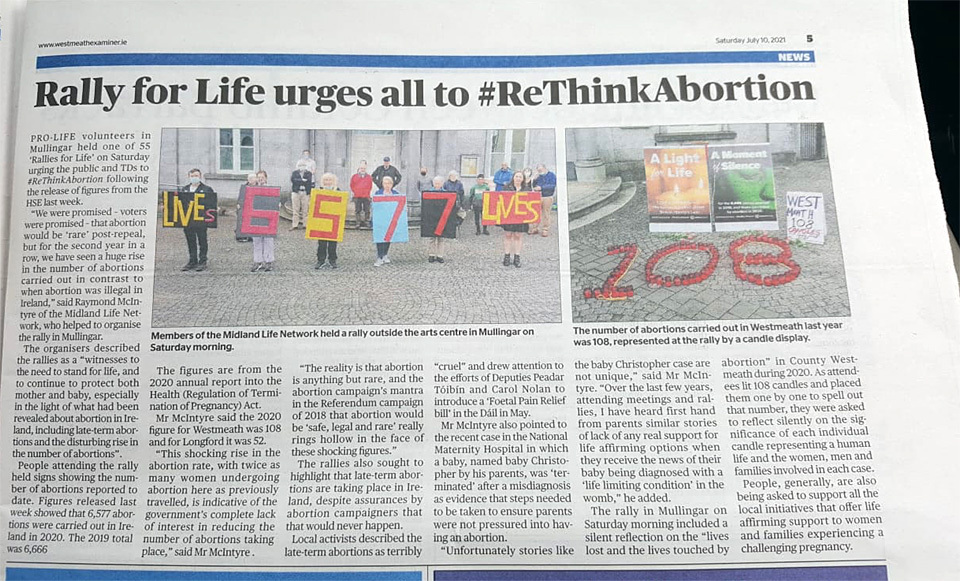 Midland Tribune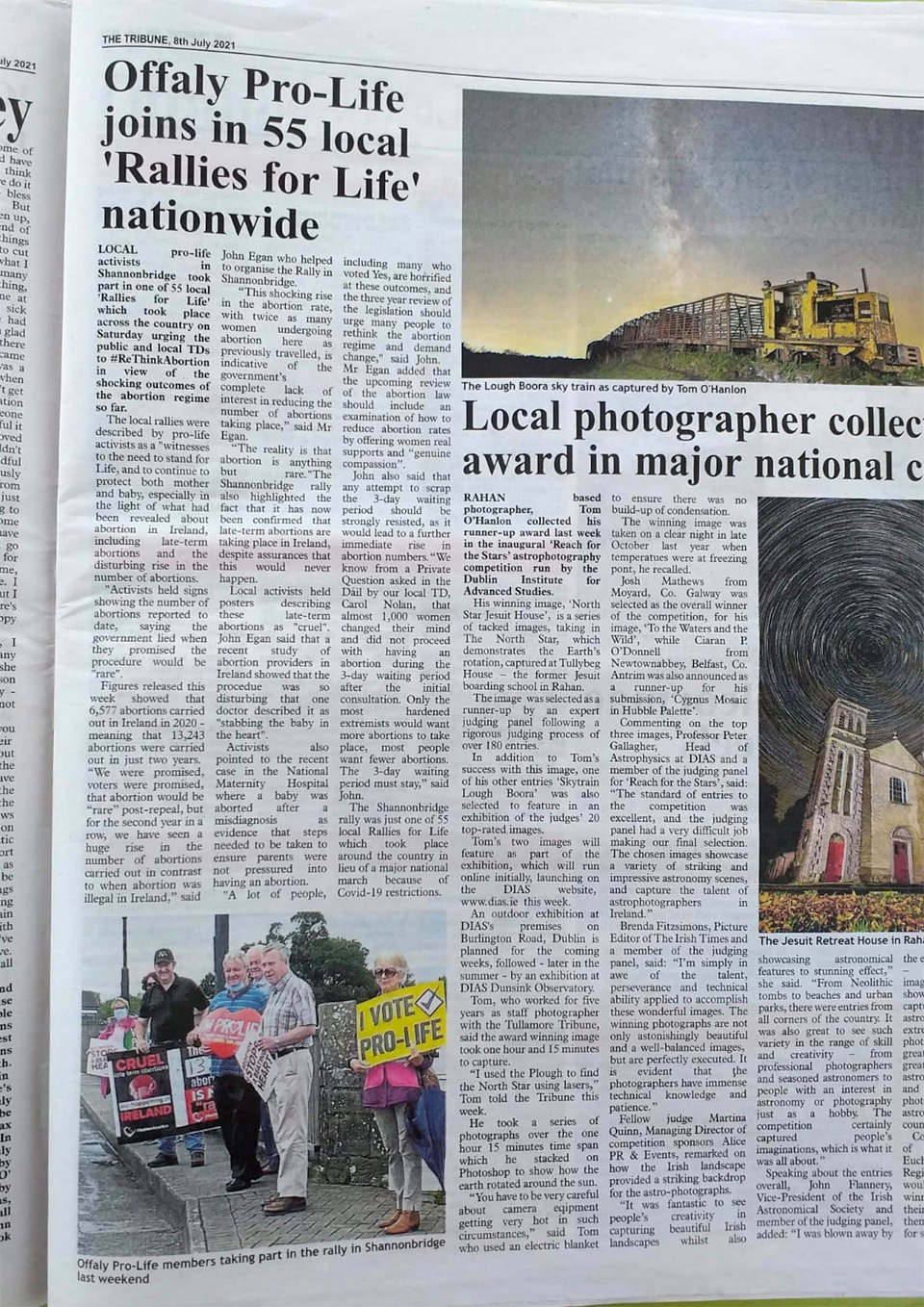 Irish Catholic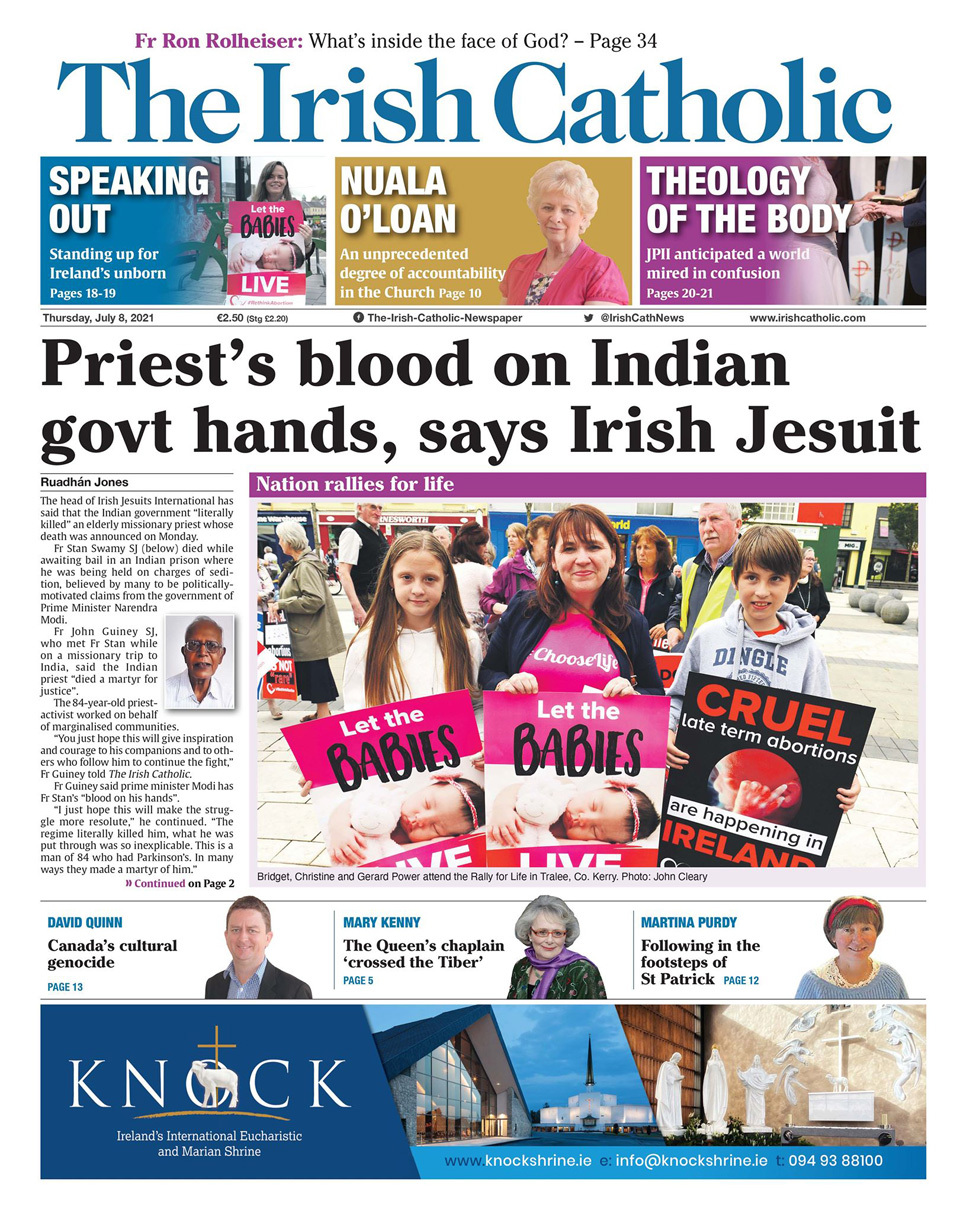 Limerick Post
Roscommon Herald
https://roscommonherald.ie/202…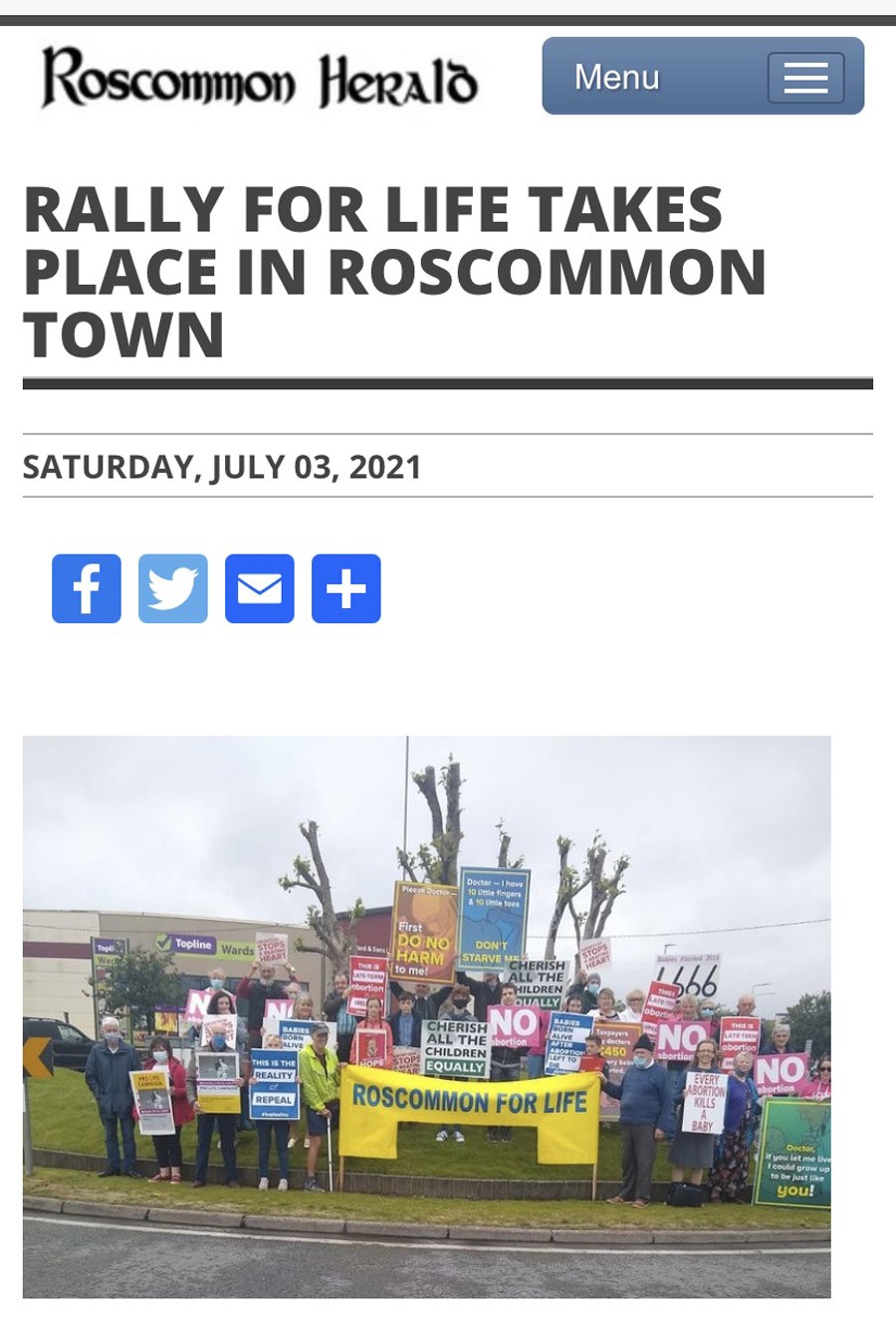 Iona Institute
https://ionainstitute.ie/news-…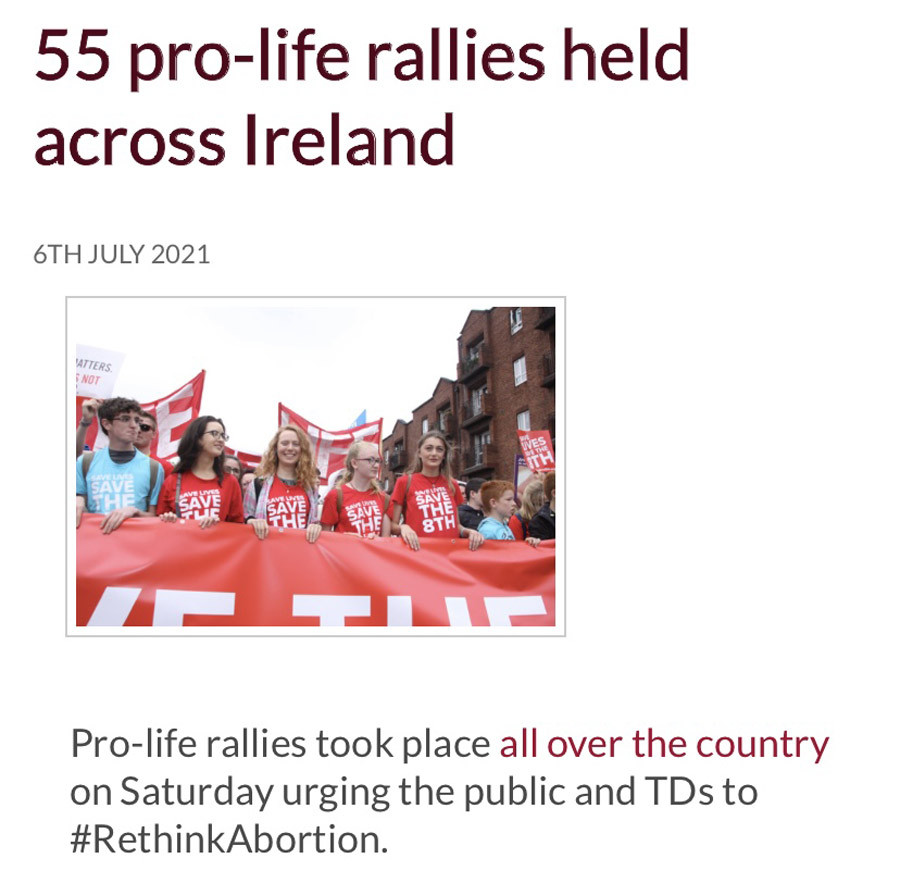 Culturizar
https://www.culturiz.ar/2021/0…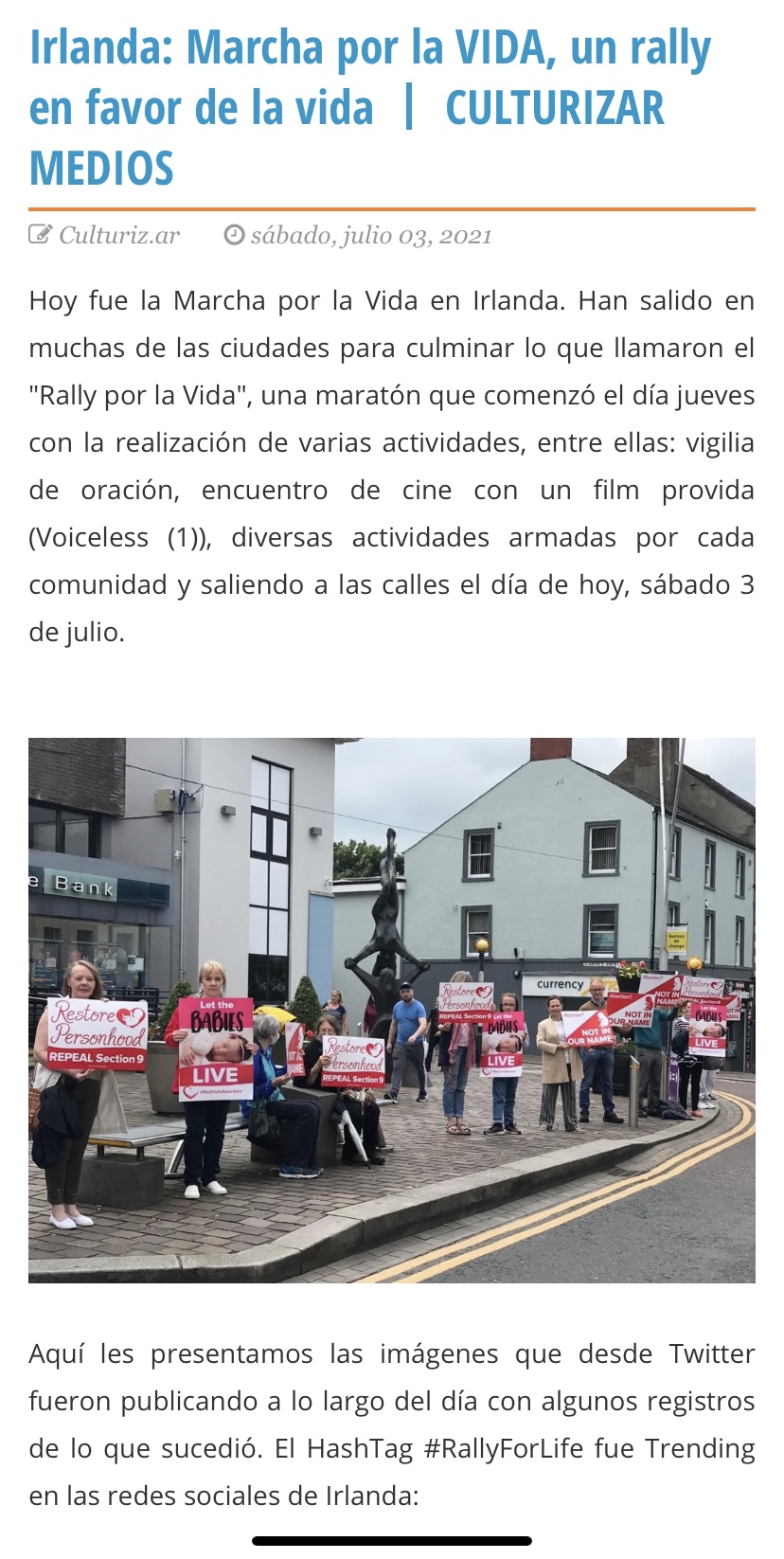 ---
LOCAL RALLIES FOR LIFE, Saturday, 3 July
CARLOW: CARLOW Town Fountain @ 2pm
CLARE; Ennistymon 8- 8:30, Lisdoonvarna 9-9:30, Ballyvaughan 10-10:30, Crusheen 11-11:30 Tulla 12-12:30, Killalloo 1-1:30, Newmarket on Fergus 2-2:30 Kilrush 3-3:30 Milton Malbay 4-4:30 Inagh 5-5:30  Ennis 6-7pm
CORK; Cork City @ 12 noon, Midleton Court House @ 12 noon, Macroom @ 12 noon, Mallow @ 11am
DONEGAL; LETTERKENNY, Station Roundabout (Tesco) @ 12 noon, BUNCRANA @ 1:30 @ Assemble at Credit union onto Market Square
DUBLIN; Castleknock, Phoenix Park Gates @ 12 noon
DUBLIN; GPO Island at 2pm City Centre
GALWAY; Sails at Eyre Square @ 11am
KERRY; Tralee, The Square @ 2.30pm
KILDARE; Outside Naas at the N7 Ball @ 12 noon
KILKENNY; High street @ 2pm
LAOIS; Top Square, Portlaoise @ 2pm
LEITRIM: Carrick On Shannon @ 3pm
LIMERICK; Limerick City O'Connell Street, @ 12 noon
LONGFORD; at the car park at Dublin road across from St Mel's Cathedral at 8pm (Friday)
OFFALY: Shannon Bridge @ 4pm, Clonmacnoise @ 6pm
MAYO; CASTLEBAR Market Square @ 1pm
MEATH; TRIM Castle @ 11am, NAVAN, Kennedy Plaza @ 11am
ROSCOMMON; Roscommon Town @ 11 am at Casey's roundabout
SLIGO; SLIGO Town, Wine Street Cark Park @ 12 noon
WATERFORD; John Roberts Square @ 12 noon (Friday), DUNGARVAN @ 11am (Saturday)
WESTMEATH; MULLINGAR @ 11am at front of The Art's Centre/County Hall; ATHLONE @ 3pm, at Car park between St Pater's Church and Athlone Castle
WEXFORD; WEXFORD Town, Bridge near Riverbank Hotel, @ 12 noon, ENNISCORTHY, the New Bridget @ 12 noon, NEW ROSS, The Quay @ 12 noon, BUNCLODY, Opposite Church, @ 12 noon
North of Ireland, Saturday, 3 July
ANTRIM; meeting at the roundabout beside St. Comgalls Church @ 2pm
ARMAGH; Junction at the bottom of Scotch Street @ 2pm
BELFAST; City Hall @ 2pm
BALLYMEMA; The Bandstand Broadway @ 2pm
BANGOR; Main Street @ 2pm
COLERAINE; Coleraine Marina @ 2pm
DERRY; The Quays opposite Mama Masala @ 2pm
DOWNPATRICK; Market Street, beside Danske Bank @ 2pm
DUNGANNON; The Square Dungannon @ 2pm
DUNGIVEN; meeting on Main Street in Chapel carpark @ 2pm
ENNISKILLEN; meeting in front of Enniskillen Technical College, opposite Dunnes @ 2pm
KEADY; The Monument @ 2pm
LURGAN; The Plaza beside War Memorial @ 2pm
NEWRY; Fiveways roundabout @ 2pm
OMAGH; meeting at Danske Bank on Market Street @ 2pm
MAGHERA; meeting at the leisure centre, Coleraine Road @ 2pm
CARNLOUGH; meeting at the Harbour @ 2pm
---
The Rally for Life is supported by:
Bunclody for Life
Cork Life Institute
Donegal Pro-life
Dun Laoghaire Pro-life
Dungarvan for Life
Every Life Counts
Family & Life
Fingal for Life
Gianna Care
Kerry Life and Family
Laois for Life
Leitrim for Life
Life Institute
Limerick for Life
Louth Pro-Life Network
Our Lady of Guadalupe Pro Life movement
Precious Life
Pro-Life Trust
Pro-Life Wexford
Stanton Health Care
St. Joseph's Prayer Group
Tipperary Pro-life
Tyrone Pro-Life Network
Waterford for Life
Youth Defence
Youth for Life NI
---